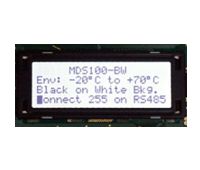 MDS100-BW
Description
The MDS100-BW is specially designed to allow a host computer board, a master PLC or a PC to display alphanumeric characters on its backlit 4 lines x 20 characters per line LCD display via RS485 bus.

You can connect up to 255 MDS100-BW together to a master PLC such as the Nano-10, FMD-Series or F-Series to a host PC. Each MDS100-BW can be programmed with a unique ID between 01-FF, and the master PLC is able to select which MDS100-BW to display what text simply by sending an ASCII string that includes the ID information of the display. Hence the MDS100-BW is ideal for implementing multiple remote displays for a host computer.
Key Features
Specification
Documentation
Application
Review
Peripherals
Compatible PLCs
MDS100-BW comprises a daughter board (the "control board") that is plugged onto the back ("piggy-backed") of a high constrast, black characters on snow white background, 4 lines x 20 characters LCD module. The LCD module is rated for industrial temperature range of between -20oC to +70oC (-4oF to +158oF), making it suitable to be installed in some outdoor applications. The control board may be removed during installation of the LCD module but care must be taken to plug it back with all the pins correctly aligned before turning on the power, otherwise the LCD panel and/or the control board may be severely damaged.

More than one MDS100-BW can be multi-dropped on the RS485 network with each MDS100-BW programmed with a different ID. This opens up great possibility for sophisticated controls where remote LCDs can be sprinkled over a distributed network of control elements. If you have an Auto485 then the easiest way is to use HyperTerminal on a PC to send "?iwxx" command to the MDS100-BW (one unit at a time). If you only have the M or F PLCs then use the TRiLOGI program: "CFG-MDS.PC6" (http://www.tri-plc.com/trilogi/cfg-mds.zip ") to change the default ID of the Network MDS100-BW.
| | |
| --- | --- |
| - Display Type: | LCD |
| - Display Format: | 20 Characters x 4 Lines |
| - Dimension (W x H x D): | 98.5 x 61.0 x 34.0 mm |
| - Viewing Area (W x H): | 76.0 x 25.2 mm |
| - Character Size (W x H): | 2.95 x 4.75 mm |
| - Dot Size (W x H): | 0.55 x 0.55 mm |
| - Logic Power Source: | 12 to 24V DC (shared with PLC) |
| - Operating Temperature Range: | -20 to +70°C |