Description
The EZWire1616 is the first of its kind in the PLC market with integrated, field-wiring I/O terminals, and provides every digital and analog I/O point with its own power (+24V or +5V) and 0V on a 3-level screwless terminal. Every sensor and actuator in the control system can be wired directly to the PLC without requiring additional screw terminal blocks and wire-harnesses.

This design saves systems integrators and machine OEMs valuable time, material cost, control panel space and dreaded wiring error recovery effort during installation.

The EZWire1616 uses TRi's topline SmartTILE-Fx CPU. It supports full floating point computation, non-volatile FRAM, flash file system, battery-backed RTC, Ethernet. RS232, RS485, digital I/Os, 12-bit ADC, 4-20mA DAC, PWM, Stepper controller as well as industry standard Modbus RTU & Modbus TCP protocols.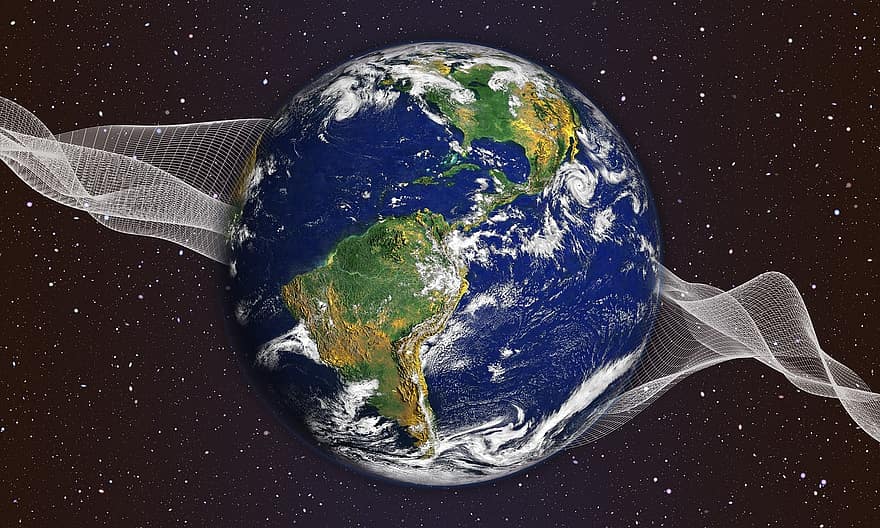 Communication
Programmable over serial, LAN, or the Internet
Push data to a server
Act as a Modbus TCP/serial master or remote unit
Built-in Webserver for web-app control
Upload files to an FTP server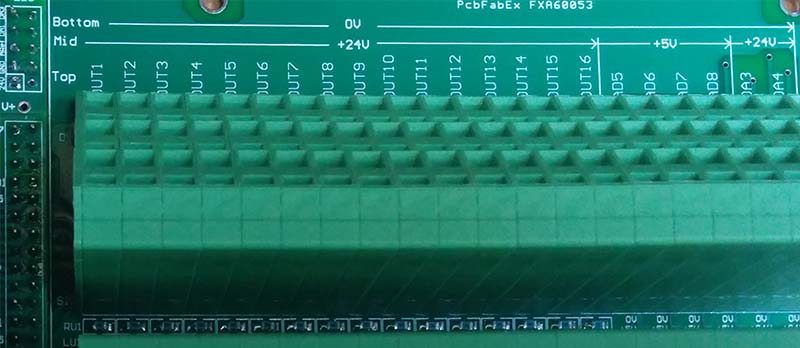 I/O
NPN Outputs can sink 2A
Supports multiple stepper control and PWM signals
Measure and count pulses simultaneously
8 x 0-5V AI and 4 x 0-5V AO
Expandable digital I/O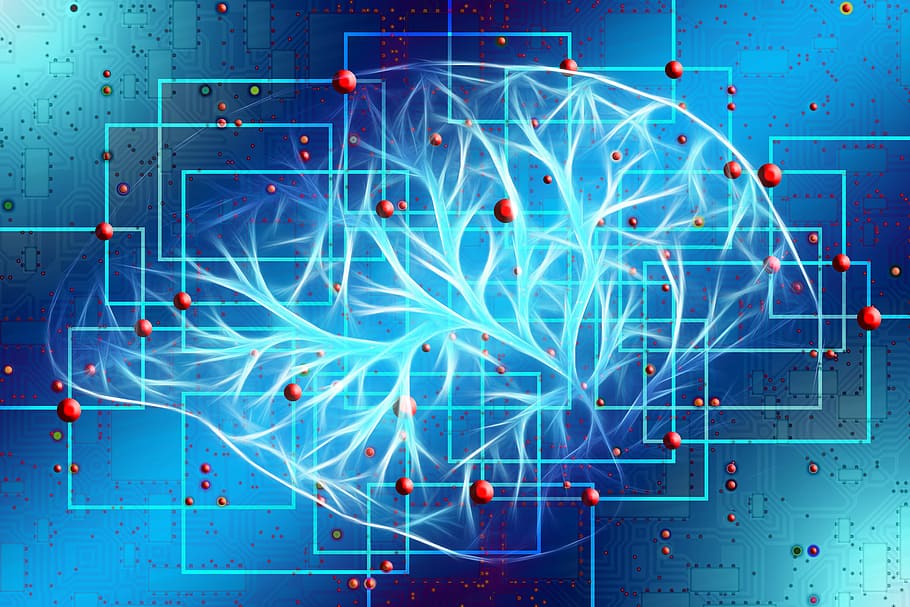 Advanced Features
High-speed, unlimited write retentive memory
Real-time clock for event storage (battery-backup included)
Software and hardware interrupts for real-time response
PID loops and floating-point math for complex control
Simple yet powerful ladder logic and TBASIC structured text programming
Item

Quantity

Qty

Specification

I/O

DI
16
NPN / 12-24V DC
DO
16
NPN / 12-24V DC / 4A peak, 2A continuous
AI
8
Single Ended 0-10V / 12 bit
AO
4
Single Ended 0-10V / 12 bit
PWM
4
12-24VDC / 50Hz to 20KHz / 0-100% / 2A continuous
Stepper Motor Controller
2
Shared with DO / pulse and direction / 10K pps
Pulse Counter
3
Shared with DI / Quadrature or single phase / 4KHz
Pulse Measurement
6
Shared with DI / Measure frequency, period, pulse width / 4KHz
Expansion Port
1
Expandable to 120 DI and 120 DO using EXP4040, EXP2424 and EXP1616R

Power

Board Supply
1
12V-24V DC

Non-volatile Memory

(standard)

Program
23.5K
23.5K words program memory standard
Data
6K
6K words FRAM memory built in (unlimited write cycles)
Filespace
1.7MB
1.7MB FLASH memory for storing webpages and/or other files

Non-Retentive Data Memory

(standard)

Integer
4K
4K words of integer data memory. Can be used as 16-bit or 32-bit
Floating Point
1K
1K of 32-bit Single precision floating point data memory (IEEE754).

RTC

Standard
1
Real Time Clock and Calendar (Year, Day, Month, Hours, Min, Sec, day-of-week) - battery backup included

COM

All COM ports support software programming, monitoring, and control

Ethernet
1
10/100 Mbps LAN port
RS232
1
DB9 female connection with Modbus RTU protocol support
RS485
1
two-wire connection with Modbus RTU protocol support

Protocols

TCP

Modbus TCP (client and server)
FServer (native programming/monitoring/data)
FTP (client and server)
Webserver (HTML and JavaScript)
HTTP

Serial

Modbus RTU/ASCII
Native Hostlink (programming/monitoring/data)
Generic ASCII (programmable)

Display

LCD
1
14 pin LCD port (supports LCD420, LCD216, and MDHMI)

Programming

Language
i-TRiLOGI Version 7.xx (Ladder+Basic)
PC / OS
Windows XP, 7, 8, 10, 11

Physical

Dimensions
7.05"(L) x 4.45"(W) x 1.5"(H)
179.1mm (L) x 113.2mm (W) x 38.1mm (H)
Weight
0.65 lbs (0.296 Kg)
Wiring
Pluggable Screw Terminals

Environment

Operating Temperature
-20 to +85 deg C
(-4 to +185 deg F)
Operating Humidity
10% to 90% Rel. Humidity, non condensing
Vibration Resistance
IEC 68-2-6/1980 Vibration 1.6mm

25Hz to 100Hz
Amplitude = +1
Acceleration = + 4.0g

Electrical Noise Resistance
IEC801-4 (Fast transient)

2KV to power supply
50 microsecond pulse width
1 min. 1KV to I/O by capacitive coupling
0 microsecond pulse width
| | | |
| --- | --- | --- |
| EZWire1616 User's Manual | Manual | View PDF |
| EZWire1616 Data Sheet | Datasheet | View PDF |
| Fx PLC Extended File System | Guide | View PDF |
| i-TRiLOGI Version 7 Reference Addendum | Manual | View PDF |
| I/O Expansion | | |
| --- | --- | --- |
| EXP1616R | Expansion Card with 32 Digital I/Os | |
| EXP2424 | Expansion Card with 48 Digital I/Os | |
| EXP4040 | Expansion Card with 80 Digital I/Os | |
| I-7000 Series (7017, 7018, 7022, 7024) | Analog I/O Expansion Modules | |
| Wiring Adapters | | |
| AIO-TERM1 | Analog Terminal Interface Board | |
| AN20MA-2 | 4-20mA Analog I/O Interface | |
| Communication Adapters | | |
| Auto485 | RS232-to-RS485 Converter | |
| U-485 | USB to RS485 Serial Port Converter | |
| Cables | | |
| DB9 Cable | DB9 Programming Cable | |
| DB15 Cable | DB15 Analog Interface Cable | |
| Memory and Battery Backup | | |
| FRAM-RTC-0 | Ferrogmagnetic RAM (11K words) | |
| FRAM-RTC-256 | FRAM-RTC-0 + Batt.-backed RTC & 256kb Data File Storage | |
| Displays | | |
| LCD216 | 2 Lines x 16 Char. LCD Display | |
| LCD420 | 4 Lines x 20 Char. LCD Display | |
| MDS100-BW | RS485 driven 4x20 LCD Display | |
| HMIs | | |
| MD-HMI | MD-HMI: 16 Keys Keypad & 4x20 LCD Display | |
| MT8050iE | 4.3" LCD Touch Panel | |
| MT6070iE | 7" LCD Touch Panel | |
| FP4030MR | 3.1" Graphic HMI with 18-Button Keypad | |
| Mounting | | |
| DIN-KIT-1B | Din Rail Mounting Kit - Small | |
| DIN-KIT-2B | Din Rail Mounting Kit - Medium | |
| DIN-KIT-3B | Din Rail Mounting Kit - Large | |
| Power | | |
| MDR-6024 | Power Supply, 24VDC, 2.5A | |
| Software | | |
| i-TRiLOGI | TRi ladder+BASIC programming software | |
| ExcelLink | TRi ExcelLink Software | |