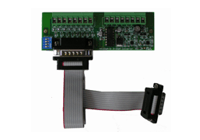 AN20MA-2
Description
The AN20MA-2 is designed to connect easily to a FMD or F-series PLC and converts up to 2 channels of 0-5V analog output voltage from the PLC to 0-20mA current loop for controlling external 0-20mA or 4-20mA devices. AN20MA-2 also converts up to 8 channels of 0-20mA or 4-20mA analog signals from field devices, remote sensors or other controllers into 0-5V analog input signals that the FMD or F-series PLC accepts.
Notes
Specification
Documentation
Application
Review
Compatible PLCs
▸ AN20MA-2 is not designed for direct connection to T100MD+ or T100MX+ PLCs  due to different location of the analog output pins on T100MD+/T100MX+ PLCs.

▸ A 30 cm (1 ft) long DB15 male-to-female connecting ribbon cable is included with the AN20MA-2 for quick connection to the PLC's analog port. Two blocks of 8-pole, detachable screw terminal provides simple wiring of analog field devices AN20MA-2.

| | |
| --- | --- |
| - Dimension (L x W x H) | 119.5 x 39.0 x 17.0 mm |
| - Weight | 0.27 lbs |
| - Power Supply Input | 12V - 24V DC |

AN20MA-2 Installation Guide (
View PDF

)