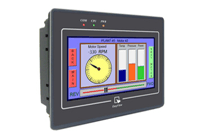 MMI6050
Description
The MMI 6050 is a 4.3" Touch Panel Color Display and HMI. It ships with a Trilogi PLC driver and a USB cable for program download from a PC. A serial interface cable to a Trilogi PLC has to be separately ordered (
Cable-6050
under "
Adaptors and Connectors
") but is automatically included free when ordered with Trilogi PLCs. The MMI 6050 is suitable for applications and OEM automation that require color graphic displays and manual interfaces.
Key Features
Specification
Documentation
Application
Review
Peripherals
Compatible PLCs
Triangle Research International, together with its technology partner: Kessler-Ellis Products, has developed a special driver for this low cost, high resolution LCD touch panel to communicate with the TRiLOGI Super PLCs (Nano-10, FMD, F-series and M-series) using the Native protocol.

Although the Super PLCs' inherent support of MODBUS protocol means that any off-the-shelf MMI that supports Modbus protocol can be used with the Super PLC, these are however limited to accessing the data as 16-bit Modbus words only.

The KEP MMI's support of the native protocol allows direct access to all the variables inside the Super PLC without the need to refer to a Modbus memory map table, thereby simplifying the development of Touch panel program and increasing its flexibility.


| | |
| --- | --- |
| - Display Type | TFT LCD |
| - Display Size (Diagnal): | 4.3" |
| - Max Colors: | 65536 |
| - Resolution: | 480 x 272 |
| - Pixel Pitch (HxV, mm): | 0.198 x 0.198 |
| - Viewing Angle (°): | 50/70/70/70(T/B/R/L) |
| - Luminance (cd/m2): | 450 |
| - Backlight: | LED |
| - Backlight Life Time: | 30,000 hrs. |
| - Contrast Ratio: | 500:1 |
| - Dimension (W x H x D): | 128 x 102 x 38mm |
| - Construction: | Plastic Molding Housing |
| - CPU and core logic: | 32Bit RISC 400MHz Processor |
| - DRAM: | 64 MB DDR2 on board |
| - Storage: | 128 MB flash memory on board, (User project size: 16MB, Data and Event log size: 48MB) |
| - I/O: | 1 serial port:COM1: RS-232/RS-485 2w/4w, 1 miniUSB 2.0 high speed device |
| - RTC: | Not Available |
| - Power Input: | 24±20% VDC, 250mA @ 24VDC |
| - Weight: | 0.3 kg |
| - Software: | EB8000 V3.0.0 or later |
| - Touch Screen: | |
| Type | 4-wire, analog resistive |
| Resolution | Continuous |
| Light Transmission | Above 80% |
| Life | 1 Million Activation Minimum |
| - Environmental Specifications: | |
| Operating Temperature | 0° ~ 45°C (32° ~ 113°F) |
| Relative Humidity | 10% ~ 90% @ 40°C, noncondensing |
| Shock (Operation) | 10 to 25Hz (X,Y,Z direction 2G 30minutes) |
| EMI | Complies with FCC class A |
| CE | Complies with EN50081-2 and EN50082-2 standards |
| Front Panel | meets NEMA4 / IP65 |

MMI6050 Data Sheet (
View PDF

)

MMI6050 Connection Cable Wiring Diagram (
View PDF

)

Configuring MM6050 as a Slave HMI (
Download ZIP

)

Sample EasyBuilder Project For TRi PLC (
Download ZIP

)

Cable-6050
- Interface cable between the MMI 6050 and the RS232 or RS485 port of TRi PLCs